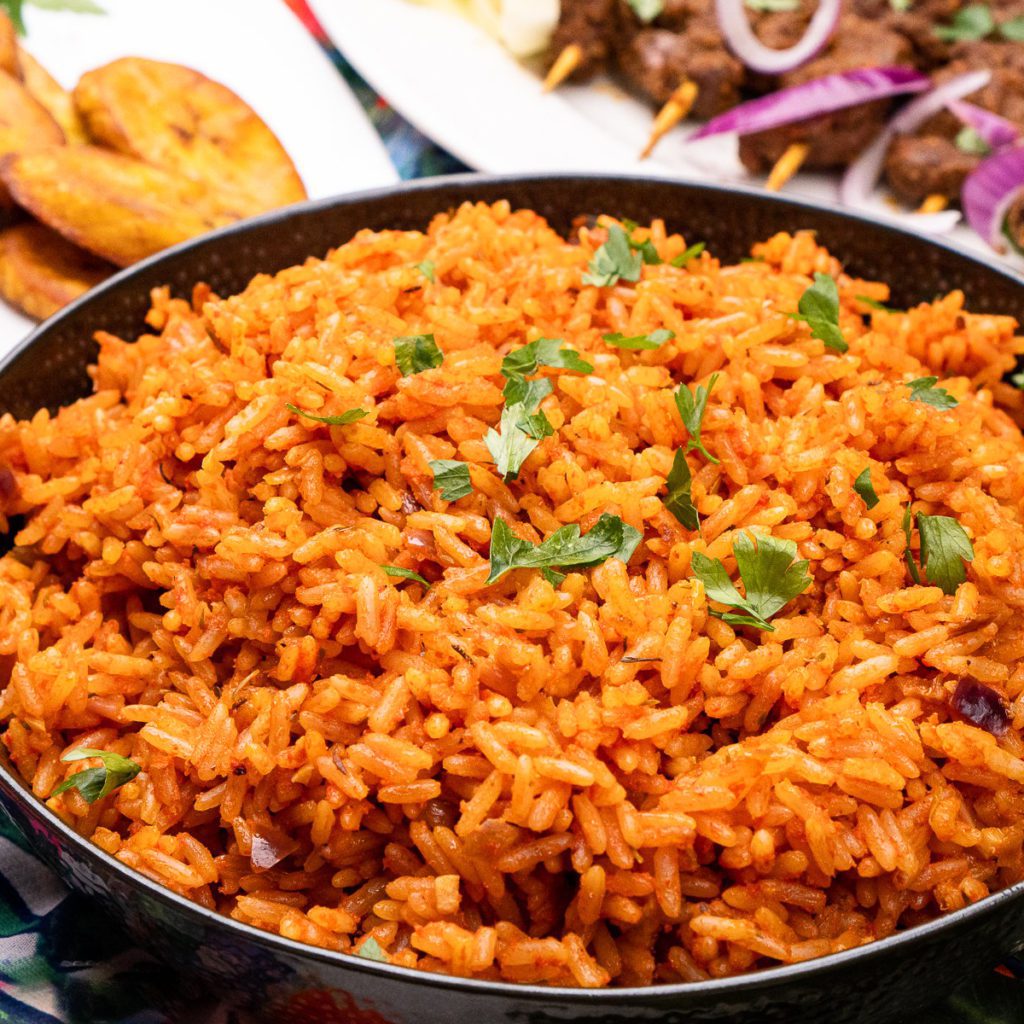 Smoky Jollof Rice is a popular West African dish known for its rich and smoky flavor. Here's a recipe and step-by-step instructions on how to make it:
Ingredients:
For the Jollof Rice:
2 cups long-grain parboiled rice
1/4 cup vegetable oil
1 onion, finely chopped
2-3 cloves garlic, minced
1 red bell pepper, chopped
1 green bell pepper, chopped
1 can (14 oz) diced tomatoes
2 tablespoons tomato paste
1 teaspoon paprika
1 teaspoon thyme
1 teaspoon curry powder
1 teaspoon cayenne pepper (adjust to your spice preference)
1 teaspoon smoked paprika (for that smoky flavor)
2 bay leaves
Salt and pepper to taste
2 cups chicken or vegetable broth
1 cup frozen peas and carrots
1/2 cup chopped green beans
Instructions:
Preheat the Grill:

Prepare a charcoal grill or smoker. You'll need hardwood chips (such as hickory or mesquite) for smoking. Soak the chips in water for about 30 minutes before using.

Rinse and Parboil the Rice:

Wash the rice in cold water until the water runs clear. Parboil the rice by boiling it for about 5 minutes until it's partially cooked. Drain and set aside.

Prepare the Smoky Flavor:

Place the soaked hardwood chips in a smoker box or wrap them in aluminum foil with holes poked in it. Place the box or foil packet on the hot coals of the grill to create smoke.

Sauté the Aromatics:

In a large, heavy-bottomed pot or Dutch oven, heat the vegetable oil over medium heat. Add the chopped onions and garlic, and sauté until they become translucent.

Add the Peppers and Tomatoes:

Stir in the chopped red and green bell peppers. Cook for a few minutes until they soften. Then, add the canned diced tomatoes, tomato paste, and spices (paprika, thyme, curry powder, cayenne pepper, smoked paprika). Mix well.

Cook the Sauce:

Let the sauce simmer for about 10-15 minutes until it thickens and the oil begins to separate from the tomato mixture. Stir occasionally.

Add the Rice:

Add the parboiled rice to the pot and stir it into the sauce until the rice is well-coated.

Pour in Broth:

Pour in the chicken or vegetable broth. Add the bay leaves, salt, and pepper to taste. Stir well.

Simmer and Smoke:

Cover the pot with a tight-fitting lid and reduce the heat to low. Allow the Jollof Rice to simmer for about 20-25 minutes, or until the rice is tender and has absorbed the flavors. Do not stir during this time.

Add Vegetables:

About 10 minutes before the rice is done, add the frozen peas, carrots, and green beans. Stir gently to incorporate them into the rice.

Serve:

Remove the bay leaves. Serve your smoky Jollof Rice hot, garnished with additional smoked paprika for extra smokiness if desired.