To provide our customers with the highest achievable standards with the available resources with a friendly and professional approach.
To create elegant and memorable experience by providing our clients with impeccable service and excellent cuisine selection.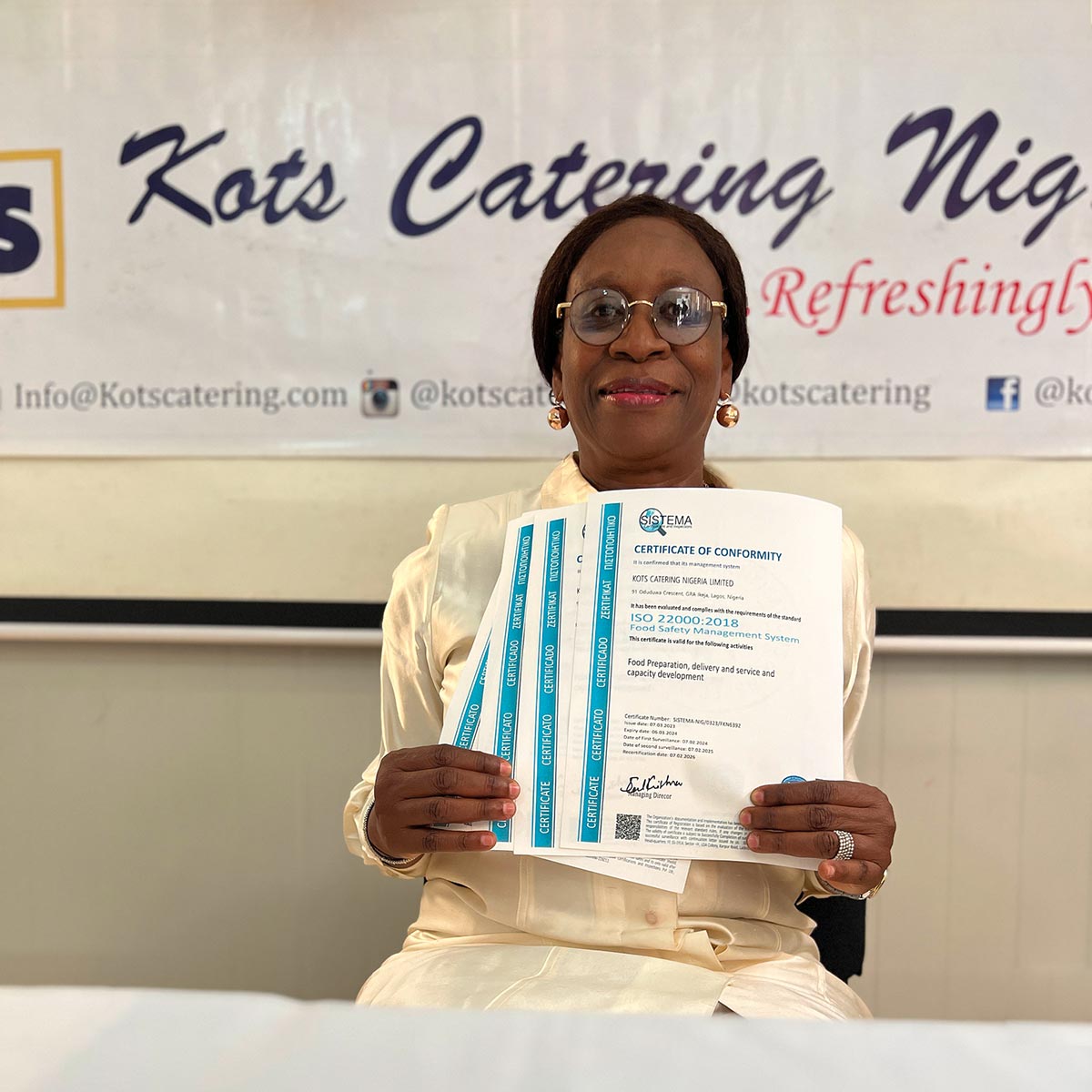 Kots Catering Nigeria Limited is one of the leading, well-known, registered and outstanding catering companies in Lagos with a tradition of excellence in providing catering services to the clients. We have extensive and broad knowledge regarding diverse types of food items, and as such, can meet the needs of the lovers of quality food and delights their mood Our chefs possess the wherewithal in preparing dishes which are rich in aroma and taste. 
The food items are prepared with the use of quality ingredients and under hygienic conditions. Our food items are highly nourishing and can be consumed by children and adults. We have a team of professionals and courteous individuals, who disseminate necessary information about the dishes served by us. By our trustworthy Catering Services, we can make any event unforgettable. Indeed, we offer our services bearing in mind the choices, preferences and budget of the clients.
BRIEF HISTORY
Kehinde Daniel is the founder and Managing Director of Kots Catering Nigeria Limited. Kehinde has a natural flair for catering and her talent for cooking and entertaining people was obvious as early as age 12 at home when opportunities came for the family to entertain or at special seasons. This flair for catering guided her choice to begin her career in Catering and Hospitality. She attended Norwich City College Hotel School, England between 1981. In 1985 she obtained her OND and HND in Hotel Catering and Institutional Operations / management.
 Early in her career she worked at Kensington Close Hotel between 1985-1987 where her won the Receptionist of the year award. She returned to Nigeria in 1987 for her National Youth service with Lagos Sheraton Hotel in 1987. With her entrepreneurial skills, Kehinde became self-employed and formed & Kots Nigeria limited in 1987. Initially working from home, Kehinde catered for several clients in her first year of business. Her first big break came in 1990, when she was given the opportunity to run the Aero Contractors Café at the domestic airport. She catered for several passengers, airport staff, in-flight bookings and several VIP flights over a period of nine years.
Kots Catering has recently acquired a property that would accommodate a purpose built office and production facility. The facility will boast of a state of the art production kitchen, tasting rooms and function rooms. About Kots Catering Nigeria limited Over the last 23 years, Kots Catering Nigeria limited has emerged as a leading corporate and private event catering company.
We've achieved our success by relentlessly striving to meet the highest standards in both the preparation and presentation of our food and the planning of our clients events. Our ongoing investment in staff training and development, logistical support, and
modern facilities and equipment means we have the resources to provide our clients with an unsurpassed hospitality service, irrespective of the scale and nature of the event we undertake. In a distinctive and highly innovative manner, we guarantee success in all the events we cater.
Kots Catering Nigeria Limited is a renowned catering company in Lagos, known for its excellence in providing catering service. with extensive knowledge of diverse food items, our chefs prepare aromatic and delicious dishes using high-quality ingredients and under hygienic conditions. Our nursing food is suitable for both children and adults. Our professional and courteous team ensures that clients receive all the necessary information about the dishes. We strive to make every event unforgettable, considering our clients' choices preferences and budget.